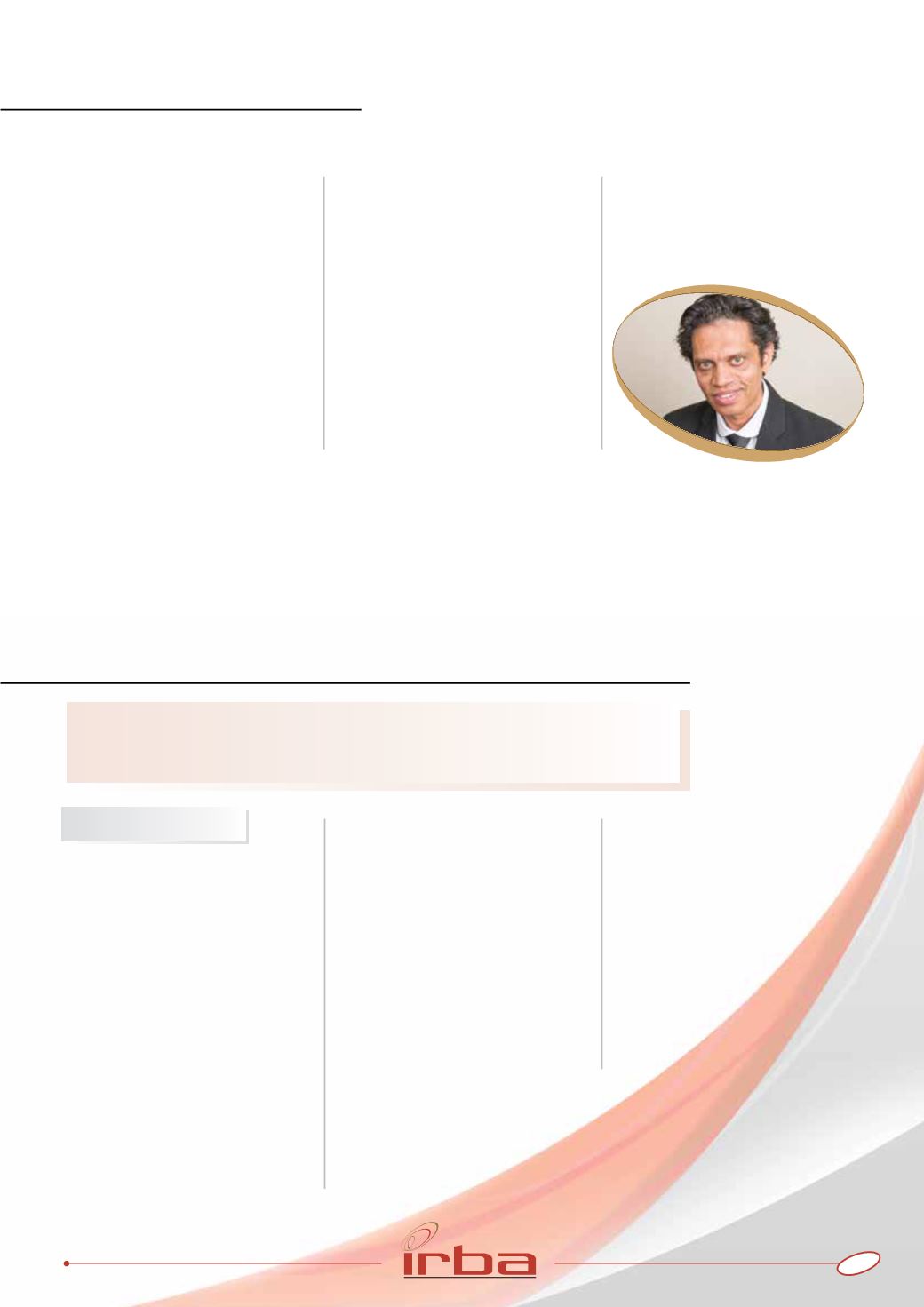 3
strengthening the profession through
lecturing, auditing and standard-
setting. We are happy to announce
that Sandy's position will be filled by
Imran Vanker, from the Office of the
Auditor General, who will join our
team with effect from 1 May 2014.
Please refer to further information on
Imran on page 20.
Although we have only just
completed the first quarter of the
current calendar year, the IRBA
has completed its financial year to
31 March 2014. I therefore wish
to thank all our stakeholders and
auditors who continue to engage
with us and to support our efforts in
delivering high quality audits, and
in doing so continue to protect the
financial interests of the public.
COntinued
MESSAGE FROM THE CEO
Bernard Peter Agulhas
CEO
Telephone:
087 940 8797
Facsimile:
087 940 8878
E-mail:
executive@irba.co.za
OVERALL RESULTS
Today the Independent Regulatory
Board for Auditors (IRBA) released
the results of the 2013 Public
Practice Examination (PPE) – the
final assessment of professional
competence for candidates wishing
to register as a Registered Auditor
(RA) or Chartered Accountant
(CA)(SA). The PPE was written on
Wednesday, 20 November 2013
and of the 2768 candidates who
wrote, 2150 passed, resulting in a
pass rate of 78% (76% in 2012).
Candidates who attempted the PPE
for the first time achieved a pass rate
of 82% (82% in 2012).
Honours were awarded to twelve
candidates who achieved a pass
mark of 75% or above.
The following candidates achieved
the top ten places:
1 Craig Wallington Honours
2 Tamryn Tromp
Honours
3 Julia Picker
Honours
4 Kyle Graham
Honours
5 Dhanyal Davidson Honours
6 Laura Thomas
Honours
7 Tarryn Aserman
Honours
8 Justin Gerhardt
Honours
9 Fathima Khan
Honours
10 (Joint)
10 Sunel Botha
Honours
10 Connor Williams
Honours
10 Jennifer Hill
Honours
OFFICIAL STATEMENT ACCOMPANYING THE RELEASE OF THE
RESULTS OF THE PUBLIC PRACTICE EXAMINATION 2013
Statement Issued 21 February 2014
PUBLIC PRACTICE EXAMINATION 2013