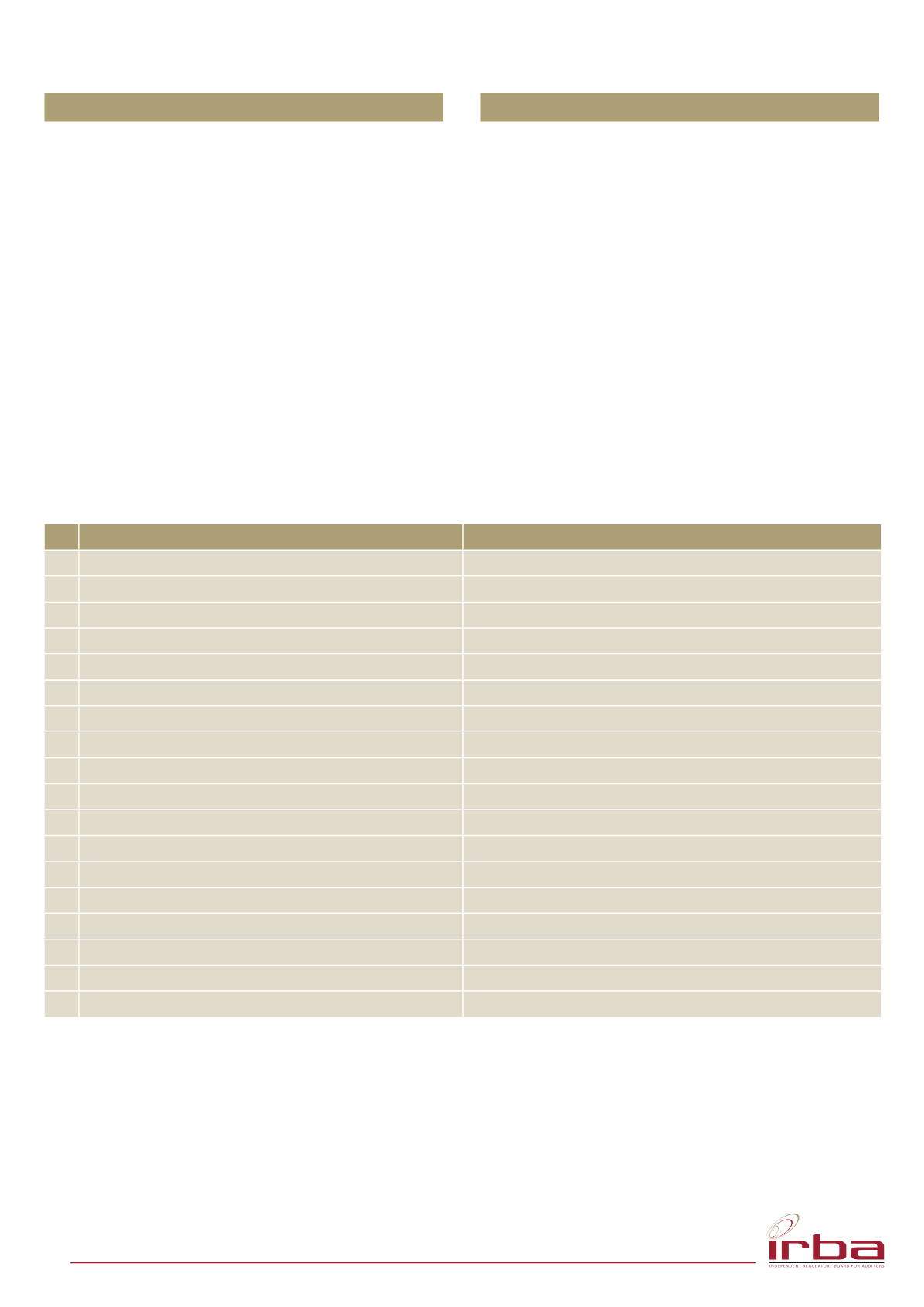 EDUCATION AND TRANSFORMATION
A REFLECTION ON COMPETENCE
In the past few years the accountancy profession has come under
scrutiny. In an attempt to understand the possible root causes for
this, some have pointed to competence as being the problem.
Others have pointed to inappropriate ethical practices. Therefore,
accountants and auditors must reflect on their own competence
and continuous development.
This brief reflection on competence highlights the IRBA's efforts in
ensuring that auditors are competent at entry into the profession,
and that they remain competent throughout their professional
lives. However, it is important to note that the duty to develop
competence remains with each individual registered auditor (RA).
The need for accountants and auditors to continuously reflect
on their competence is further compounded by the rapid rate of
change in the world and the complexity of auditing and accounting
standards.
The Audit Development Programme (ADP)
The ADP is an experiential learning period for those qualified
professional accountants who wish to obtain eligibility to register
as RAs. Professional accountants who did their training in an audit
environment are required to spend a minimum of 18 months on the
ADP before they can obtain eligibility to register as RAs. Candidates
on the ADP may also be signed-off in a period shorter than 18
months due to the recognition of prior learning. At the completion
of the required period, the candidate's competence is assessed
through a portfolio of evidence. What this means is that by the time
an individual registers as an RA, they would have obtained audit
experience at a senior level.
We now take the opportunity to congratulate the candidates, listed
below, who recently completed the ADP. Some of them have already
registered as RAs. We wish you all the best in your future and look
forward to seeing your contributions to our efforts to restore the
public confidence in the profession. We would also like to remind
you that your mandate as an auditor is public protection. We also
extend our appreciation to your employers and oversight registered
auditors (ORAs) for their commitment to developing competence.
# Candidate Name
Firm Name
1 Jason Richard Bruhin
JN Chartered Accountants
2 Ian Charters
PKF (WKM) Inc.
3 Lindi van der Mescht
Macheallides Parker Kreitzmann
4 Tanya van Wyk
Jan Erasmus Auditors
5 Hester Johanna Bestbier
BGR SA Inc.
6 Jonathan Richard Jansen
Grant Thornton
7 Bianca Engelbrecht
Woest Malan Wenhold Inc.
8 Marthinus Hendrik Senekal
Centner Levine and Company
9 Marelize Haywood
Centner Levine and Company
10 Sanel Theart
Theron Du Plessis Somerset West Inc.
11 Marko Pretorius
Eksteen Louw & Badenhorst Inc.
12 Clovilde Moller
The Ashton CA(SA) Group Inc.
13 Rupert Maitland
Tuffias Sandberg
14 Shevonne Slabbert
Smith Savage
15 Matthew Goldacre
S Haynes and Associates Inc.
16 Carmina Coetzee
Nel Havinga and Corbett
17 Naheeda Shaikh Arab
AGSA & TSG SA
18 Morne Holtzhauser
Ernst and Young Inc.
Issue 42 | April - June 2018
17