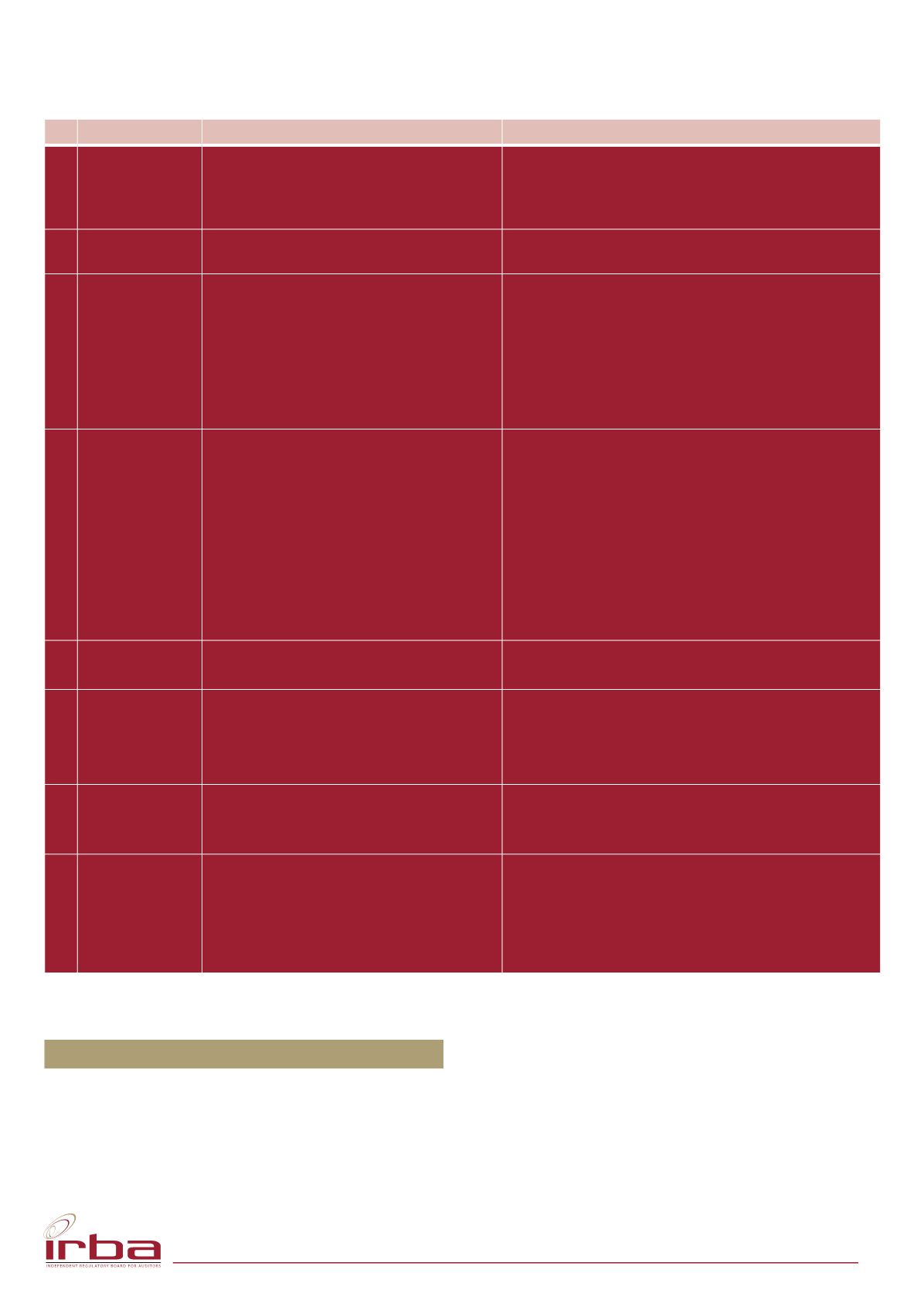 Summary of issues raised during the workshops
# Theme
Factors
Possible Solution
1
Education System
-
Relevance of what is learnt at school.
-
Is school preparing learners for university or
equipping them with life skills?
-
Early intervention: Excel at school for bookkeeping.
-
Promotion of maths and science.
-
Social contract.
2
Alternative
Funding Models
-
Trainees struggle with financial commitment.
-
Designated profession to liberate trainees from debt.
3
Firm Experience/
Culture
-
Culture is driven by the majority group.
-
Some trainees have huge financial
commitment to their families.
-
Trainees from certain backgrounds are not
able to request assistance.
-
Language barrier.
-
Professional survey. IRBA Driven. Results analysed per
firm.
-
Direct feedback by trainees to SAICA and the IRBA.
-
Retention strategies.
-
Managers as role models for trainees.
-
An understanding and appreciation of trainees and their
backgrounds.
4
Managers
-
Managers control the profession.
-
Managers appointed through a focus on
technical competences.
-
Top management not necessarily an
indication of a transformed profession
(the top can be transformed while middle
management is not).
-
Managers living beyond their means.
-
Commerce and industry generally can pay
higher salaries.
-
More focus on non-technical skills (soft skills).
-
Help them define their management styles upfront.
-
More management coaching and training.
-
Role models for trainees.
-
Personal financial management training.
5
Gender
-
Male dominance.
-
Work stress.
-
Flexible working hours.
6
Social Contract
-
Profits trump ethics.
-
Bring a child to work.
-
Grow children into the profession.
-
Sharing of firm values with staff.
-
Social contract reflected in our competency frameworks.
7
Branding
and Raising
Awareness
-
It is also hard to retain white trainees in the
profession.
-
Direct interventions at a student level that are beyond
marketing and awareness.
-
Recruitment from previously disadvantaged universities.
8
Regulatory
Environment
-
Small firms' reliance on public sector work.
-
Certain black and white RAs don't want to be
accredited for listed audits (risk avoidance).
-
Small firms need more resources to enable
them to participate in bigger audits.
-
Promote firm partnerships over sole practitioners.
The IRBA hopes that firms will actively engage on the issues raised during the study and initiate discussions to address some of them. For a
full presentation of the survey results, please contact us.
EDUCATION AND TRANSFORMATION cont.
SUCCESSFUL COMPLETION OF THE ADP
The IRBA is proud to present the candidates who successfully
completed the Audit Development Programme (ADP) during the
quarter ended September 2018. We wish them all the best in their
future endeavours and hope to see their positive impact as registered
auditors in the near future. We also take the time to congratulate
their firms, especially their oversight registered auditors (ORAs), in
supporting these candidates' journeys on the ADP.
Issue 43 | July-September 2018
12