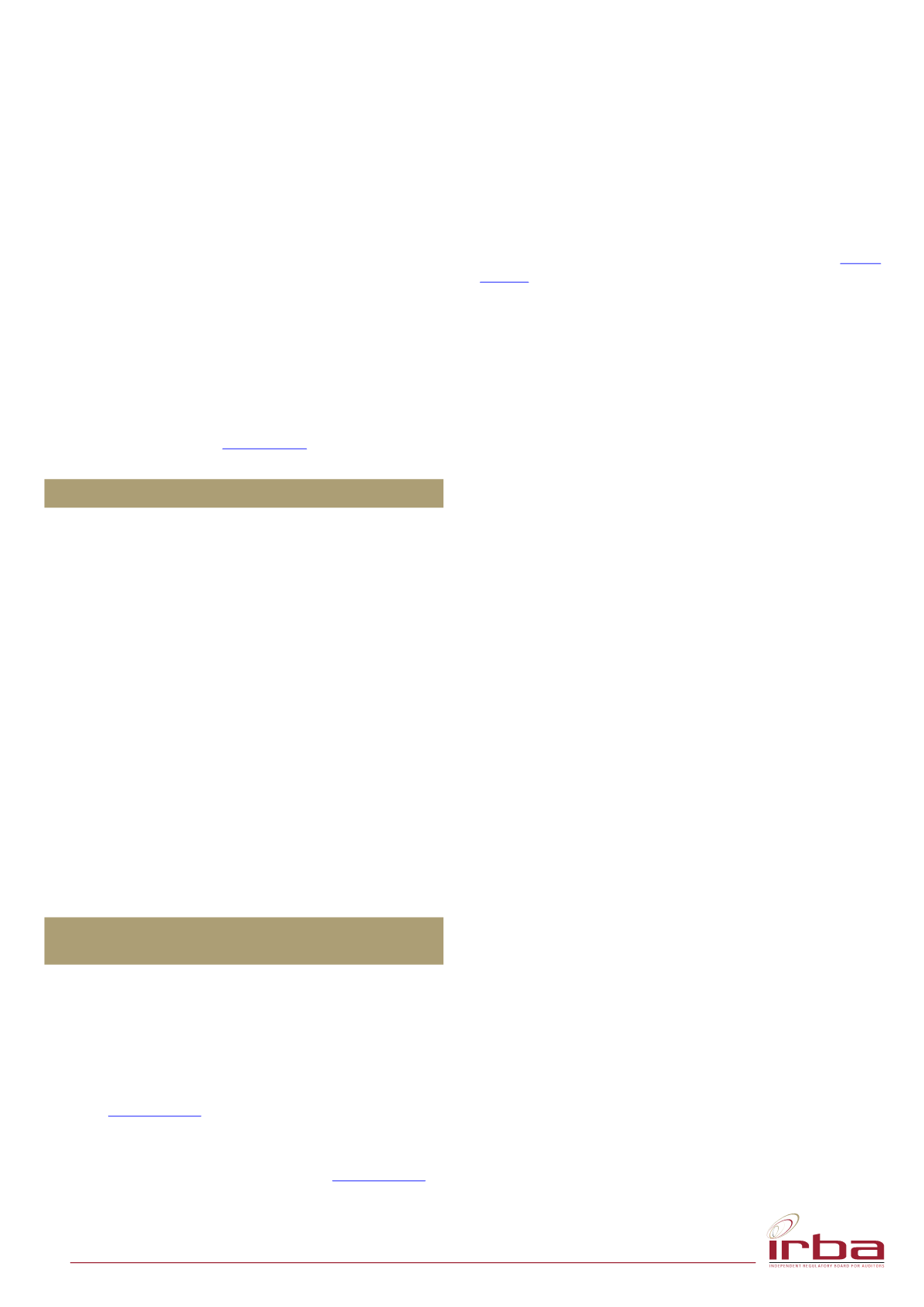 STANDARDS cont.
entity, the practitioner may consider the responses collectively
to determine whether the sustainability assurance engagement
exhibits the characteristics set out in the objective paragraph of
SAAEPS 1.
Effective date
SAAEPS 1 is effective for the
Acceptance and Continuance
– Preconditions for the Assurance Engagement
phase of the
sustainability assurance engagement for reporting periods beginning
on or after 15 December 2020. Early adoption is permitted.
The effective date of SAAEPS 1 has been delayed by two years
to allow time for practitioners to prepare for and implement the
guidance, receive training and provide feedback to the IRBA on
any implementation lessons. The delayed effective date also allows
time for preparers of sustainability reports to receive training on the
content of SAAEPS 1, as it relates to them.
SAAEPS 1 is available on the
IRBA website
.
CFAS Public Sector Standing Committee (PSSC)
Revision of the Guide for Registered Auditors: Auditing
in the Public Sector Vol 1
The update of the
Guide for Registered Auditors: Auditing in the
Public Sector Vol 1
(the Guide) is continuing. The Guide is being
updated for:
• Changes made to the AGSA's audit methodology;
• Further guidance on how political governance structures in the
public sector should be engaged with;
• Amendments arising from the revision of the Public Audit Act
(PAA);
• Expanding/enhancing the sections dealing with legislation,
guidance and key stakeholders/role players in the public sector;
• A new section on the role and powers of the Auditor-General;
• Changes to the financial reporting frameworks applicable to
the public sector; and
• Changes to the International Standards of Supreme Audit
Institutions (ISSAIs).
International Audit and Assurance Standards Board
(IAASB)
IAASB projects in progress
• Accounting estimates (ISA 540).
• Quality control at engagement level (ISA 220).
• Quality control at firm level (ISQC 1).
• Engagement Quality Review (EQR) (ISQC 2) – NEWSTANDARD
– see
IAASB website
for more information.
• Group audits (ISA 600) – the IAASB's Group Audits Task Force
has issued an ISA 600 Project Update – Enhancing Audit
Quality Focusing on Group Audits. See the
IAASB website
for
more information.
• Professional scepticism.
• Auditor risk assessments (ISA 315 (Revised)).
• Agreed-upon procedures (ISRS 4400).
• Data analytics.
• Integrated reporting (emerging forms of external reporting)
assurance.
More information on these projects is available on the
IAASB
website
.
Issue 43 | July-September 2018
5